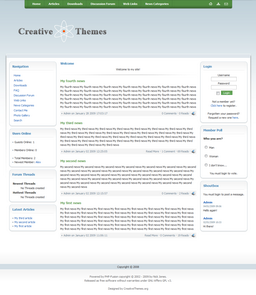 Description: Current theme can be used for information portals, business sites, blogs or homepages.


Theme features
Graphic amount: medium
Main color(s): light tone blue, grey, green
Brightness: bright
Width: fixed (996 px.)
Included source(s): logotype PSD-file
php-fusion: v7.xx



Download theme



Attention!
Sale and resale of the theme(s), modification or removal of theme copyright is PROHIBITED!